LE CHIUSE 4, MONTALCINO, ITALY - TUSCANY
Tucked in among the rolling hills of the Tuscan countryside, the Le Chiuse 4 is a small but cozy apartment. An appealing combination of modern furniture and family antiques give it a distinctive look, while wood-beamed ceilings, terra cotta floors and a cozy corner fireplace add to its rustic charm. There is one step up into the living room, dining room and kitchen which are combined in one small space with a fireplace. The front door leads to a sunny, private patio with table and chairs. The main double bedroom is spacious and bright, with a view of the vineyard. A tiny second room has a single bed and room for little else. Because of the small living area, we only recommend this apartment for 2 people.

This vacation rental is set on the Le Chiuse farm and vineyard. The site is surrounded by vineyards and the rolling hills of Tuscany. Next to the swimming pool is a comfortable outdoor seating area that is a favorite spot for guests to gather and relax before dinner, even if they aren't swimming. There are bikes on site for guests to use along with a bocce court and ping pong table. Guests may also use the old pizza and bread oven. The owners live off site but stop in to check on their guests, and the farm foreman is present on weekdays. Guests can buy wine, grappa and olive oil on site, including the farm's own Brunello wine.

The farm is a 10-minute drive or a 40-minute hike (on a steep trail) up to Montalcino; the trail follows a section of the ancient Via Francigena used in the Middle Ages by pilgrims coming from Northern Europe to Rome. Siena and the Chianti Valley are among many easy day trips.

Other vacation rental properties on this site include Le Chiuse 1, Le Chiuse 2, Le Chiuse 3 and Le Chiuse 5. Check out this video of the Le Chiuse farm!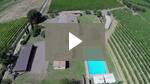 Occupancy: This property sleeps 1-3 people. | Disclaimer | Print Page
Property Details
SLEEPING

2 bedrooms: 1 with Italian queen bed, a tiny bedroom with a single bed

BATHROOMS

1 with shower stall

KITCHEN

Full kitchen facilities

LAUNDRY

Washer and dryer on site, fee for use. Iron and ironing board available.

LEVEL

Ground floor

ACCESSIBILITY

Ground floor, good access

TRANSPORTATION

5-minute drive to the main road, 10 minutes to Montalcino, 35 minutes to Siena, 90 minutes to Florence

MINUSES

Dirt access road, small living space

PLUSES

Attractive grounds, lovely views, window screens, the farm produces award-winning wine, grappa and olive oil, bikes for guest use, a bocce court and ping pong table on site, WiFi internet (no computer), ceiling fan in living room, Air Conditioning in queen bedroom

SPECIAL FEATURES

Swimming pool, fireplace, ice machine in the common area, WiFi internet (no computer), ceiling fan in living room, Air Conditioning in queen bedroom
WEATHER: See weather data for this region throughout the year.

Book this apartment in 3 easy steps:
Select the month or months you are interested in traveling.

(Please choose your the number of travelers first to see
which months are available for that party size.)
Choose "Book Now" for the date and trip duration that you want.

(Please choose your the number of travelers first to see, then choose the which months are available for that party size.)

(Choose the months you'd like to travel to see available dates and prices.)
What's included with the Italy - Tuscany Untour?
One or two weeks in a farmhouse apartment, often on a working vineyard with stunning countryside views.
Suggestions for booking your international flight from the U.S. to Florence, or we can purchase tickets on your behalf. (Click for more information on Untours' air policies.)
Airport meeting upon your arrival (set arrival time only) and assistance with your rental car pick-up and transfer to your apartment. (Or detailed instructions that allow you to reach your apartment independently with ease.)
Car rental, with unlimited mileage and basic insurance, for the duration of your Untour.
An orientation with our acclaimed local staff person, who is full of excellent recommendations for your sight seeing, practical advice on driving and parking, and a listing of local events happening during your stay.
A comprehensive driving map, local information, plus our own Untouring Tuscany guidebook, researched and written by Untours staff, full of the best restaurants, sightseeing, and other suggestions.
A local cultural activity, like a luncheon and a guided tour of a local abbey.
Use of an Untours cell phone while on location.
A stash of groceries upon your arrival, so you don't need to shop right away.
Pre-trip planning advice from our staff, available by phone or email right up until you leave.
Ongoing support with our local representative. Help available when you need it.
Landlord or Host for Le Chiuse 4, Montalcino, Italy - Tuscany
The owners of Le Chiuse farm, Simonetta and Nicolo, stop in on weekends to check on farm business and greet their guests, and their son Lorenzo spends a good bit of time on the farm. Lorenzo speaks excellent English. Guests on the farm have access to a telephone for emergencies. Our Tuscany Untour staff person is always available by cell phone if guests have problems or concerns.
Montalcino, Italy - Tuscany, Home of Le Chiuse 4
Montalcino is a beautiful hill town, sporadically populated in Etruscan times and permanently settled around 1000 AD. The town was important in medieval times and its thirteenth-century walls are still largely intact. Today Montalcino is known for the Brunello wine made in its surrounding farmlands. Its center is pedestrian-friendly and walkable. Its narrow streets are lined with shops, good restaurants, lively cafés and wine bars. It hosts an open-air market on Fridays and offers a museum of sacred art. Visitors to the town's fourteenth-century fortress can climb its tower for a spectacular view of the countryside or sample local wines in its basement cantina. The town offers banks, ATMs, coffee bars, a grocery store and a good bakery.

Staying in the countryside outside Montalcino puts you in the heart of the Tuscan wine belt, in the shadow of countless wineries and an easy drive to Chianti country. Traditional farm life continues in Montalcino and the many beautiful hill towns that surround it. Here, artisans sell pottery, small restaurants create traditional Tuscan meals, and old parish churches hide stunning frescoes.

Montalcino is about 40 minutes south of Siena and an 90 minutes south of Florence.
Other day trips from Untours' Tuscany vacation rental apartments include the historic hill towns of San Gimignano, Pienza, Montepulciano, and San Galgano; the Etruscan sites of Volterra, Chiusi, and Cortona; the natural beauty of Mt. Amiata and the coast; and the monasteries of Monte Oliveto and Sant'Antimo.

Customer comments about Le Chiuse 4, Montalcino, Italy - Tuscany
"We have stayed in Tuscany South eight times... We have stayed at Le Chiuse six times, in apartments 2,3,5, and three visits were in Oregano 4. This is our all-time favorite place to stay. We can't say enough good things about this apartment. Lorenzo is certainly following in his parent's footsteps and gives an excellent tour of the vineyard." Myron Petersen

"Le Chuise 4 was terrific for the two of us. Everything was clean and bright. The kitchen was well supplied with cooking and serving items. The staff was friendly, answered questions, and made us feel welcome. The views were magnificent at sunrise, sunset and in the moonlight." Eddie Robertson

"Our apartment was absolutely wonderful! It was a perfect size for the two of us, and the setting was absolutely beautiful. The view from the pool, looking down on the rolling Tuscan countryside in one direction, and up at the hilltop town of Montalcino in the other, was breathtaking.
The winery tour that Lorenzo gave was one of the best that we've ever been on, and the wine itself delicious. We could not imagine having a better location or host." Scott Seltzer

"As a vineyard, LeChiuse has charm, comfort and the most gracious host/owners we have had the great pleasure to share our visit with. They are always available for your needs and offer any help you may require." Leonard Miniszak

"Our Untour vacation was wonderful; Le Chiuse was a great home base and meeting the other guest and sharing experiences in the evening at the pool was a great way to wind down our daily routine." Phil Santucci

"Le Chiusi was the perfect location for our family reunion and we had an absolutely fabulous time!" Freddy Welty

"The host, Nicolo and his family made us feel so welcome. He invited us all to a pizza party one night. He had an open brick oven and made everything himself! The hike up to the town of Montalcino was invigorating and had beautiful vistas along the way." Kerry & Ken Washburn

"This was our 2nd visit to the same apartment unit at Le Chiuse. We enjoy the friendliness of the owner, the quiet undisturbed peaceful surrounding, no telephone, and no television." Mary & Len Miniszak

"Our hosts invited all of the Untourists to their grape harvest party - wonderful experience.!" Byron & Barbara Webb

"Simplicity with old world charm and modern conveniences. The site is lovely and host friendly and helpful and generous with his wonderful wine sampling." Dorothy & Gene Roberts

"The best thing about our Tuscany Untour was the beauty and peacefulness of LeChiuse. After busy days of touring the countryside, it was nice to come home to it" Carla Selvey

"The pool was a great way to meet others in the apartments - with wine and cheese in the late afternoon." Dorothy Congdon

"The beautiful vistas, the wine, the food, the people, and the wonderful other Untourists we met on the vineyard" Stephen & Margaret Wachenfeld

"We loved it. I can't say enough nice things about Le Chiuse. Beautiful, peaceful, quiet. Loved the pool at the end of a long, hot day" Carla Selvey
Ratings for Le Chiuse 4, Montalcino, Italy - Tuscany
| | | |
| --- | --- | --- |
| CREATURE COMFORT FEATURE | POSSIBLE POINTS | SCORE |
| Modern Kitchen (oven, microwave, dishwasher, stovetop, modern ambience) | 6 | 5 |
| Phone (yes, limited, no) | 2 | 2 |
| Television (none, TV w/o cable, TV w/cable) | 1 | 0 |
| Sunlight | 3 | 2 |
| Size | 4 | 2 |
| View | 4 | 2 |
| Attractiveness (décor, charm, windowboxes, antiques) | 6 | 5 |
| Bathroom (attractive, functional) | 3 | 3 |
| Furniture Comfort (comfortable chairs, etc.) | 6 | 5 |
| Screened windows | 1 | 1 |
| Outdoor amenties: Patio, Balcony, Swimming pool | 6 | 6 |
| Laundry facilities: (yes, limited, no) | 1 | 1 |
| Sleeping facilities comfort | 4 | 4 |
| Quiet | 3 | 3 |
| Other factors not included above | | 1 |
| TOTAL | 50 | 42 |

An Explanation of the Ratings: The first column of figures is the highest score possible in each category. The column on the far right is the score for this particular apartment in this category. For this set of ratings, we have asked every Untour staff person who has seen the apartment to rate the individual features. Many of these staff people have been in a position to hear reports (good and bad) from customers over the years, so they offer a particularly well-informed perspective. Nevertheless, customer ratings will be included in the overall ratings as soon as possible.

Please keep in mind that tastes vary. These ratings give an overall sense of how most people feel about a factor; you are in the best position to know if your tastes and requirements are likely to be in the mainstream of opinion or if you have particular needs. If you have any questions about the meaning of any of the factors rated, or about this apartment, please call our office toll-free at 1-888-868-6871. You can nearly always talk directly with someone who has personally seen the accommodation.


2018, ONE WEEK, AS LOW AS
double occupancy
Or choose two weeks,
2 people from
$1,419
per person
Choose a different
untour region
MEET OUR STAFF
Andi Cancelliere
Director - Italy Untours
Bookkeeper
Ciao,
bellissimi
! I've been to Italy about 20 times, speak Italian fluently, and I'm often mistaken for a native while I'm there.
---